hello hello!!
wonderful wednesday.
the day i get to share some very exciting news.
i closed down my shop a few days ago, to implement an idea i've been brewing.
an idea bigger than myself. an idea that wouldn't be able to happen- without friends.
the 'ply away home' collection was spawned with the idea that i needed my community to create.
we need each other's support. i love buying fiber from my friends- and being able to help their small businesses grow too. almost every piece from the 'ply away' collection features my friends batts, rovings, and handspun yarns.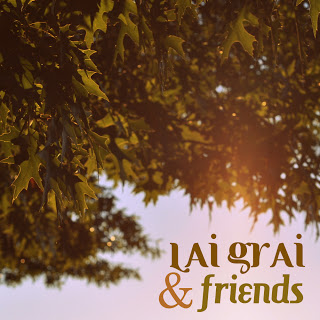 but then i thought, there has to be a better way to support them, beyond simply 'voting with my dollar'... i wanted to create a group where i said- "if you like me, you'll love these other artists".... so i tested out a very small collective- but more and more, it seemed. that... what i needed was, no, not a collective. but rather, a collaborative. a group shop. a place for others like me.
and what am i? i am truly a mixed media artist. i always have been. but there hasn't always been a place that encouraged a make-all attitude. and the "items of the month" they were all leading up to this. but i got anxious- haha, and i simply couldn't wait any more months. basically, the 'product of the month' idea was to slowly integrate more and more diverse items until Lai Grai was not just "fiber" but really "texture."
... and you might have noticed that i slowly changed my tagline from "unique fiber art for a luxuriously textured life" to just "luxuriously textured" (which is way better anyway! the first one was real mouthful!!!) and that my business cards no longer featured heaps of batts but instead subtle watercolor patternings.
and again, i'm not saying fiber will disappear- please, it will never!- but that you can expect to see a lot more of what else i love to create. and beyond that, you will also see what my dear friends, my dear dear dear online companions also love to create. they are all fiberistas too (at least at this point), but they also have other skill sets that needed room to shine.
and i always felt that i was a visual merchandiser and a buyer at heart and now i will be doing those things along with the making that i've always loved.
so. after all that. please let me introduce...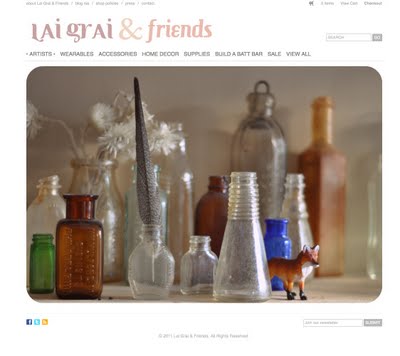 lai grai & friends
this is the new site. the new look. the new space.
right now it is still just me - lai grai.
but i will be slowly introducing more & more pieces by my friends.
you can see a few bios from a couple artists that will be collaborating with me coming very very soon. maybe even in a few days. but for now, it is still a work in progress.
mostly because i didn't want to keep the shop closed for too long.
anyway, please please let me know what you think- i'd love to hear your thoughts!
and if you know of any artists that suit my bohemian, vintage, french farmhouse, eastern inspired tastes- please let me know in the comments! i would love to check out their stuffs. :)
xo! laila