can you believe how fast this month catapulted along?
wow!
only NINE days until xmas!
a slew of packages and the last month of this round
of batt clubs were shipped out yesterday!
if you're in the club, avert your eyes!
unless you like peektures...
spoilers below
oh my, i have to say... goodness.
i didn't even want to roll them up into their usual buns.
this fiber was DELICIOUSLY soft.
mm mm mm.
chocolate colored baby alpaca, cultivated and tussah silk dyed a rich rich red, eco-spun, luxe angora roving in both ecru white and cherry red, merino/tencel in creamy white, bfl in red and white, sparkle in red, white, and thicker red, and more white, silk noils, and white bamboo and mint bamboo, kid mohair locks in dusty gray, banana fiber in white... i was going for a peppermint vibe.
soooooooo SOFT.
plus hanks of the red tussah & cultivated silks that i used in the batts
plus a mini batt of "yuletide" greens and browns- like spearmint.
and merino/tencel in a golden yellow... like the star atop the tree
+ some wonderful soysilk (from swimswim!) ...
i tried to get these batts as LUXE as i could.
i mean, they're my clubbers- it's holiday time.
if ever there was a time to feel SPOILED! :)
anyway, clubs are up for
+
now.
depending on the # of renews, there are approx. only 6 spots available.
i'd be happy to reserve a spot for you!!
x-x-x-x-x
also, if you are still looking for that last minute gift...
(i know i did a lot of last minute shopping this year, totally snuck up on me!)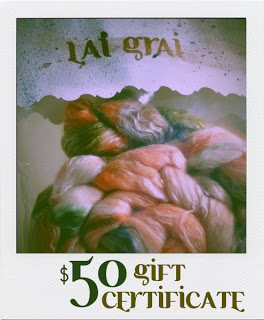 Lai Grai is offering
! grab a pre-set amount of 25, 50 or 100!
or shoot me an email & i'd be glad to custom make a gift card for you!
x-x-x-x-x
december 22nd is the last shipping day until the new year!
so mark your calendars!
Lai Grai will be staying open.
however, if you place an order between dec. 23-jan 1st
everything will be shipping out on monday january 3rd!
...
there is some new NEWS a brewin' for 2011
but you'll have to wait until tomorrow morning's newsletter to find out!
what? you're not signed up? find the subscriber widget over there ---->
lots of love!
laila