hi friends!
thank you all so so so so so so much for such an amazing grand opening experience on wednesday!
for those of you who missed it, the
sold OUT of fleece, batts and rovings!
that's right, all the fiber was devoured!!!
[but don't worry if you didn't get a chance to nab some fluffy fun,
i will be doing my next shop update THIS friday! (6/25)
with new batt colorways, luxe clubs & so much more!]
so after that huge huge couldn't-stop-beaming-with-happiness launch,
where did i go?
i had been blogging on a every other day schedule, but then, poof.
well, mostly, i was recovering.
i had been working long hours to get everything *just* right for the big day.
and then i was packing orders, shipping orders, answering emails.
but i also snuck in some fun time too!
on thursday, we met up with some pals for an after work drink.
then headed to prospect park for their "celebrate brooklyn" free summer concert series.
the kick off show was a night of comedy, hosted by
+
a slew of other hilarious (mostly brooklyn-based) comedians.
like: john hodgman, michael showalter, kumail nanjiani, & janeane garofalo.
it was
's 40th bday-
so they commissioned a cake shaped like a cat with his head on it.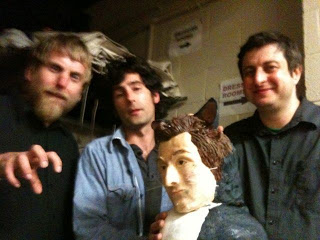 just in case you didn't believe me... haha.
this awesome photo was snatched from mshowalter's twitter feed.
eugene mirman + blitzen trapper bandmates + awesome cake!
played only played 3 songs due to technical troubles
at the comedy show before their appearance on fallon that night.
(no tv here, so jes & i were glad we got to see them at all!)
also, if you weren't jealous by all of the above, then
came out!
ahhhhhmazing.
AND this show was FREE. all it took was a little effort and train ride.
i decided that if we're paying absurd rent here,
we might as well benefit from all the going-ons.
so in that vein,
on friday night...
i headed to etsy's 5th birthday party!
which was also such great fun!
i met a wonderful new pal named haley who runs a blog called:
she was kind enough to snap some photos
(i totally spaced and didn't bring my camera!)
here's me silkscreening my special etsy's 5th bday tote bag!
you can tell it's actually my awesome self b/c of the popsicle tattoo, haha.
(p.s. this tote is so cool!!! i've been carrying as my purse since i made it!)
the bag design says:
"craft together. craft forever. happy fifth birthday, etsy!"
and haley & i at the twinerator, all decked out in craft party hats!
alas, julie-pie (
) snapped the pic, so she couldn't be our cat! wuh-wuhh
(above three photos all courtsey of haley! click through to go to her flickr)
as i was searching the
to find photos for this blog post, i came across this one!
can you see haley & i becoming pals?
(hint: she's holding a green bag & i'm wearing a white dress)
ahhhh finally!!
here is where i spent most of the night:
haha, gathered 'round the food tables. chatting with brian & nguyen (
)!
later we (the above, plus julie & victoria & nguyen's lil sis) all hit up a bar in greenpoint.
to celebrate phil's bday and it sorta ended up being an impromptu
party!
haha
it was an awesome night!
saturday, we saw another concert (new pornographers show) & met more awesome people,
but that tale will have to wait.
love you all!
laila