remember when i posted about "ply away home" and my intentions to make a house hat?
(you might not remember, because it was within the illustrations i attached, you kinda had to zoom in)
well, that plan is still on.............. i just find that i NEED MORE BOBBINS!
spinners, does this happen to all of us?
i thought investing in 3 jumbo bobbins in october would've really been enough.. but blah. i keep trying to spin to ply - deep rich woodsy colors for this house hat. but i only have 1 ply finished and the rest of the bobbins are occupied. the ply away textured yarn + longest scarf project (more about that at the end!) are keeping the other two full.
i'm tempted to just break down and buy the darn yarn i need!
i mean, spinning is much more affordable, but i know from experience that if i let a project stay on the backburner the chances of it slipping my mind and getting scorched is highly likely.
plus whilst i was doing my daily etsy persue, i found this
: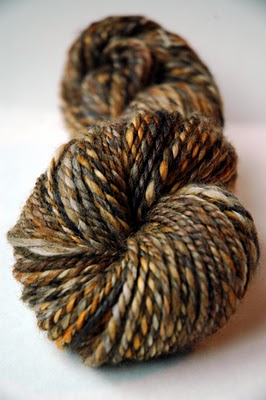 little owl handspun 2-ply by the urchiness
perfect colors, and already a two-ply. yes, sorry darlings, i'm gonna have to ask the urchiness to reserve this darling skein for me. but definitely go look at her shop for other delish yarns! i originally ended up there because of her lovely interpretation of lacey's (aka moonrover) batts!
---
annnnnd while i was reading my blogs on google reader, i found this print! which reminded of the house hats i was supposed to be knitting!! how amazingly cute is this House Hat Bear? yes, that's even the title!! serendipitous, no?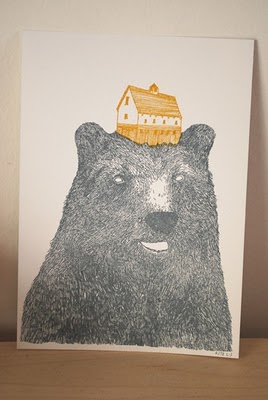 also from etsy, LizzyStewart is the creator of this fun gocco print, via Commas and Clauses.
---
again from the blogosphere, via Love It A Lot, I found this amazing textile designer who creates these absolutely incredible lace sculptures!!
YES, LACE!
YES, SCULPTURES!
and AGAIN with the houses!
either because of the recession we are all hell-bent on furnishing and cosying our nooks, or everyone has adorable little house motifs on the brain. i just pray no one has knit a house hat yet.... damn, i better get a move on!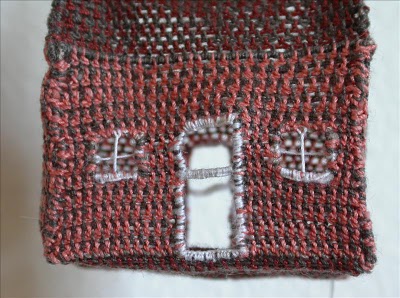 but Dorie Millerson has more to offer than just houses. SERIOUSLY, go check out her website knitter/fiber enthusiasts. you won't be sorry!
---
and finally, my most recent project/challenge....
THE LONGEST SCARF!
this seems to be everyone's favorite photo from the challenge so far. haha, probably because the yarn/crochet chain is blocking out my eyes. all i can see is yarn. and well, that's pretty acurate for my current state of life anyway. :)
what's new in your universe?
i'd love to hear!
x&o
laila