2010... oh the possibilities!
we can do anything!!!!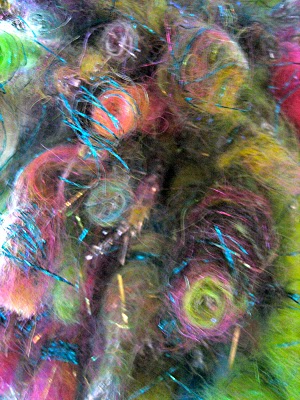 sneak peek from the "boum" collection, coming in 2010
just look at all this crazy stuff i did in 2009!
in 2009, i: (in no order)
-got a strauch petite drum carder
-moved to brooklyn, new york
-broke 300 sales on etsy
-hosted a virtual labs LIVE at the etsy labs in dumbo
-went to camp pluckyfluff/loop joint workshop & rhinebeck in the same weekend of fiber bliss
-hosted a tour de fleece team! yay!
-met rachel-marie of knittydirtygirl, craig of cubistliterature, sabrina g. author of knitknit, lexi of pluckyfluff, steph of loop, laura of indigonightowl, julie of mysecretadmiral ...
-& i met a slew of you amazing fiberistas on ravelry, twitter, etsy, flickr & more!
-realized that i adore french food, and cooking it too!
-knit my first sweater!!! & i dyed, carded and spun all the yarn for it too!
-sold a really insane freeform crochet hat!
-which prompted me to make a freeform purse that also sold.
-became a consigner for 2 yarn shops! downtown LYS & UFS (still going strong!)
-redesigned my website thanks to my new iMac thanks to my dad
-debated abandoning the name rawfish
-started 3 mini collections which will offically launch in 2010.
wow! and i'm sure i'm forgetting some milestones... so if all that can be done in 1 year, imagine what will come!
well, i know at least one new thing that will be coming (aside from the collections!)...
a
on ravelry!!! yay!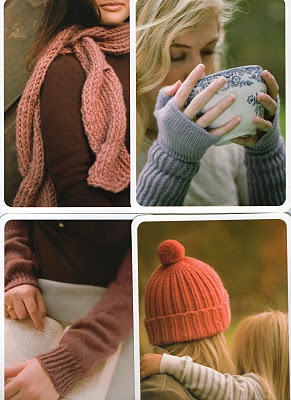 the picture in the lower right was what prompted my lust for these patterns!
my dad surprised me by purchasing "
Hats, Mittens & Scarves- 25 Cool and Cozy Knitted Projects
" off my amazon wishlist! the photography for the patterns is stunning!! i've picked out 4 projects that seem easy, fun and useful. also, it seems like it would be a cinch to swap in handpsun for any of these projects!
they are all rated a level 2 (1 being the easiest) so i feel like could actually make all of them! i think up first is that cable scarf (top left). it is essentially one long cable, so the pattern says it would be good for people who haven't done cables before (like me!!! eek). so i figured through the help of a KAL we got through knitting an entire sweater, we can definitely conquer one measly cable, right?!
anyway, i hope you all have a FANTASTIC new year!
xoxo, laila
p.s. i decided that i had left you all hanging for long enough on the website giveaway....
drum rolllllllllllllllll
yay! congrats to commenter #4! thanks to random number generator,
, you are the winner!!! please email me with your mailing address & if you'd like yarn, fiber or a knit! & you will be surprised with incoming goodies! and thanks again to everyone for your valuable feedback! :D